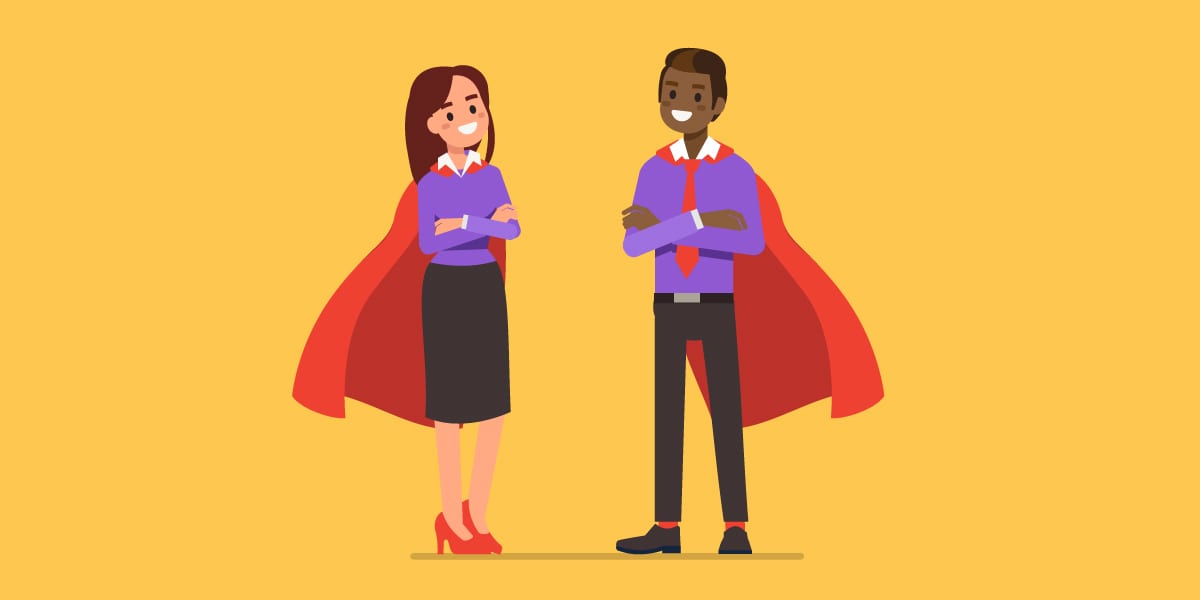 We started our HR Warriors and Business Leaders Insights webinar series for two reasons. First, we've learned the most from our business partners, and what they want from a strategic HR relationship. Second, we found that the business leader discussions were the most popular part of our HR Warrior® workshops. There's great value and safety in being able to learn from and ask candid questions of business leaders who aren't a part of your organization.
We wanted to offer that value through our free monthly webinars. We designed these sessions to be like quick B12 shots of development. Grab a nugget or two and go back to your work! We held our first webinar this past week, and we are summarizing it here to help continue the dialogue. In fact, we'll be summarizing all our webinars to encourage ongoing learning.
So, grab a beverage, settle in, and take some time for yourself and your development. Here's what we covered in the first installment of our HR Warriors and Business Leader Insights webinar:
---
The Need for HR Warriors
It's a given that we need HR Warriors. But what exactly is an HR Warrior®, and why are they so important? Simply put, HR Warriors are colleagues who everyone wants on the project. They add value in their own expertise of HR and beyond. They are great problem solvers and facilitators of work. They care about what they do, and they see their work as an opportunity to have a positive impact on the business every day. So yes, these are the kind of people we need in HR. The problem is that it is hard to demonstrate this kind of attitude. Most people have never benefited from a detailed description on what it takes be an HR Warrior®!
This is why we developed the CHARGE™ model. It is based on what we learned from business leaders, and their take on the qualities an HR Warrior® needs to possess.
Business Leader Insights: Sue Tidswell
We were lucky enough to be joined by Sue Tidswell, a sales leader, who provided insights as to what she expects from HR overall. She gave examples of concrete day to day actions an HR Warrior® should take. Sue expressed her opinion that one of HR's primary functions should be to help communicate an organization's vision, mission and strategy to every team member. She also shared that she expects honest feedback, data, insights and recommendations from HR. It's the HR department's job to make a business' message easy to understand—by helping business leaders simplify the message!
Functionally, Sue expects her HR team to schedule regular meetings with her and keep her informed as to what is going on. She shared that,
"It's tough to schedule an appointment if you're not on my calendar. Frequent, short meetings to obtain updates are beneficial to me. We need to communicate frequently with our teams. Keeping employees engaged allows them to see their value and that you care about their well-being."
Key Takeaways: Sue Tidswell
Ask your leader, "Tell me the cost to the business if I don't take action." In brief, it is an HR Warrior's responsibility to speak to a business leader in their language. What will happen if I don't take action? Consequences could range from revenue loss, to productivity issues, to higher turnover and lower engagement.
It's the HR Warrior's job to help a business leader solve problems — don't just present problems and offer no solutions.
HR Warriors should schedule time with leaders to find out their goals, concerns, and pain points. They should act like a sales person in trying to find out what is going on in a leader's head.

TIP: The best time to reach out to a leader is before 8am or after 5:30pm.

An HR Warrior® always ties what they are doing back to a leader's business goals. Ask yourself, how does what you are doing in HR affect the business?
An HR Warrior® should know their value—make sure your business leaders know your value too and appreciate how you can partner up to make great things happen!
A business is about people—HR is the heart and pulse of those people. HR Warriors are critical to the business and business leaders need to remember the value that you bring.
In summary, there is no question about it. We need HR Warriors. The hard part is actually living up to this need. Sue Tidswell shared some great insight into tactics warriors can take to provide maximum value to their leaders and organizations.
Her key piece of advice? Know your value as an HR partner and make sure that value is clear to your business leaders. Make the time to talk with leaders and explain the impact of what you do. Show them the cost of not doing something or doing it halfway, and your value will be made clear. Being able to quantify actions makes HR real to business leaders and creates greater meaning for them!
Watch our previous webinars here.